Sample Success Story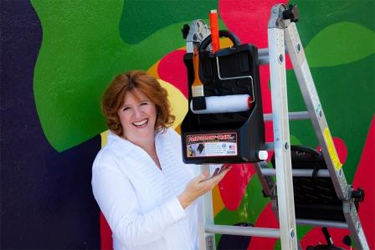 Carolyn Keane, PaintSmart-Trayz
If you've ever had to paint using a ladder, you know exactly how difficult and dangerous it can be. Balancing on the ladder with a paint tray is nearly impossible and constantly going up and down to apply paint to your roller is tedious and tiring! That very problem was the inspiration that lead Carolyn Keane, a Licensed Interior Designer and Realtor turned inventor from Lake Worth, Florida, to conceive and develop her new invention, the "PaintSmart-Trayz".
Carolyn's ingenious new concept is easy to carry and conveniently hangs horizontally on a step ladder or vertical on an extension ladder to keep your hands free to safely paint. It also gives you a place to hang the roller while you are using the brush and overall makes work on the ladder more efficient and safer.
Enhance immediately fell in love with the product and began work on refining the design, developing the new promotional material and generating interest from potential licensees. In two short months Enhance had a license agreement in place, just in time for the 2011 National Hardware Show, where it was exhibited and pitched to major retailers worldwide.
"I was really impressed with Enhance's professionalism, ingenuity and speed to market," says Carolyn. "It is tough starting with your first item. Getting the product onto store shelves was exhausting; it felt like I was always spinning my wheels and getting nowhere. Now that Enhance got a deal in place for me with a great licensee, we are excited to see the product in major retail chains!"
Already Selling in Stores!
The product is already available at Ace Hardware, several independent hardware stores around the country, and following the National Hardware Show there is a great deal of interest from the large home centers such as Home Depot. To learn more about her product, visit her website at www.paintsmart-trayz.com.
Currently Available At: